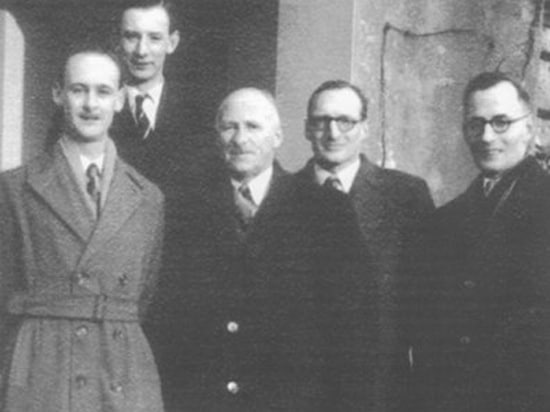 With roots going back almost a century the accountancy firm of Royce Peeling Green (RPG) was once based at offices in Manchester's Hilton Street and is now at the Deva Centre, Trinity Way. We are now one of the best-known and highly respected firms of Chartered Accountants in Manchester. But how many of our clients know anything about our past?
It was 1911 when Ernest Royce first put up his plate, hoping that business would find its way to him. Fortunately, it did, and a substantial client base was soon built up in the textile industry.
Ernest Royce was part of a Manchester which is now history. When he began in practice, tax relief could still be claimed for the upkeep of a horse!
Royce's clients had to pay income tax at only 9d (4p) in the pound on income above £2,000 per annum and a shilling (5p) on all income above £3,000. Estate Duty had recently risen to an outrageous 15%, but only on estates worth more than a million pounds.
Ernest Royce was a shrewd, intelligent and kind man. But also one of rigid moral principles, something which could upset his clients. It was said that although he inspired respect, confidence and even affection, that could be mixed with trepidation amongst his more wayward clientele. According to one recollection, the occasional defaulter would approach the Inland Revenue with unease, but had to face his accountant with real fear.
Charles Large was taken on by Ernest Royce as a partner to carry much of the administrative burden. This proved to be a fortunate choice, which would enable Royce to fully enjoy his love of long winter cruises. A passion which endured for so many years that he would live to see his favourite newly-launched cruise liner, eventually crumble to rust and be consigned to the scrapyard.
The current fir, however, has two roots. In 1935, two young Manchester Chartered Accountants Charles Green and Noel Peeling, instituted what was eventually to become the firm of Peeling Green & Co. That firm was founded almost by chance when the two friends found themselves practising in adjacent premises.
Work poured into their two small practices and through working together the two friends found that they had drifted into partnership. The energy and resilience of youth, which was a mainstay of their progress, turned to disadvantage however on the outbreak of war in 1939. Both partners and the whole of their staff were very young, and for this reason, the firm became vulnerable to extinction when many of them were called up for military service.
Fortunately, the firm employed a Mr G J Primer an accountant exempt from call up and whose mental resolution belied his physical frailty. G J Primer's resilience eventually led him to become a partner in the firm and he, together with Charles Green, kept it going through the war years, a period which included the destruction of the firm's premises in the air raids of December 1940.
In the immediate aftermath of the war, all accountancy firms found an immense backlog of work. It was under that pressure that Ernest Royce & Co suffered the crippling loss of Charles Large around whom the administration of that firm had revolved.
An amalgamation was proposed, and the partnership of Royce Peeling Green emerged; the older Royce being somewhat shocked to discover that Messrs Peeling and Green had so much confidence in their friendship that they had never had a formal partnership agreement drawn up.
The role occupied by Charles Large was filled by G M Bickerton, an Incorporated Accountant who was then required to study for the examinations of the Institute of Chartered Accountants at night; a challenge he famously rose to by gaining honours in one part and prizes in both.
In 1965 the firm moved to Hilton Street. Ernest Royce continued to be associated with the firm for sixty-five years, living in Southport until his death at the age of ninety. In 2002, the firm moved from Hilton Street to its current premises at The Copper Room in the Deva Centre, perhaps more widely known locally as the old Threlfalls Brewery.
The firm remains independent, though with worldwide connections and now has offices in London, Stockport and St Asaph.
We have received an excellent service from the team at RPG for well over 20 years. We particularly appreciate RPG's real interest in our company and suggestions for improvements. The service RPG provides goes well beyond what we could expect.  The attention to detail and the prompt, professional service the team provides means that we are reassured that should we require urgent or unusual advice, the team will provide it. We would have no hesitation in recommending RPG.
Executive Chairman - SheffProp
I would like to thank RPG for your unbelievable help, assistance and friendship for over 40 years. Nothing has ever been too much trouble. Words alone are insufficient, and I think that the same would apply to my former colleagues and my family who have also come to rely on your advice and guidance.
Founder - Neville Johnson Offices
We have worked with RPG for many years, for good reason. They are not only extremely knowledge but they really take the time to get to know you as customers and also as people. This really makes a difference, as whilst it is of course important that you receive great service, which we do, it's also essential to work with professionals who you can really trust and who go out of their way to know your business as well as you do, giving ultimate comfort that you are all striving towards the same goals. I cannot recommend them highly enough.
Kids Allowed
"RPG have always been our first point of call for advice on accounting, tax and financial regulatory matters and indeed have become an additional sounding board for both myself and my colleagues on strategic matters. The consistently high quality and timely advice they provide is very important to us."
Chief Financial Officer - ProofID
"As a family business we have been using Royce Peeling Green as our accountants for over 25 years. We have always been impressed with their expertise and depth of knowledge in all financial areas required to help run our business. There is an obvious understanding and trust between the two companies which leads to proactive approach to guide us with short and long-term financial planning. We have found everyone at Royce Peeling Green to be very approachable providing us with the reassurance that they will always provide a professional response in a timely manner."
Managing Director - Manchester Slate Ltd
RPG have now acted for our various companies for over 15 years. Their advice and commercial attitude in dealing with Tax, Audit and general businesses matters has always been of high quality and queries dealt with promptly. The team at RPG are experts in their field, they understand the SME market place well. They have been involved in all our corporate transactions, from setting up of businesses, ongoing support of our management teams through to being part of the team that negotiated the successful sale of a group company.
Genesis Group International
We have received a first rate service from RPG over many years. We appreciate their attention to detail and the timely, professional and pro-active advice they provide. We would have no hesitation in recommending the team at RPG.
Managing Director – Ribble Packaging Limited